49
The Bizarre Case of Richard and Susan Hamlin
a tale of torture, murder, rape, incest, satanic cults, snuff films, death threats, pistol whipping, the CIA, Ted Gunderson, mind control, Stockholm syndrome, depression. child abuse, infidelity, bankruptcy, the rise and fall of a couple of rich lawyers, and the destruction of a family
January 11 (updated September 30), 2006. A very strange criminal trial concluded in Sacramento yesterday (Jan. 10) with the conviction of former prosecutor and defense attorney Richard W. Hamlin, 45, on several charges, including that of torturing his wife, Susan Hamlin, 49, also an attorney. She formerly worked at one of the largest law firms in Sacramento. The torture conviction may get him life in prison. (update, September 29, 2006: Judge Eddie T. Keller sentenced Hamlin to life in prison and told him that his violence was "inspired by pure evil." The judge didn't elaborate on his theological presumption, though it seems to have been put forth to support the length of the prison sentence. Under California's inscrutable sentencing laws, however, Hamlin will be eligible for parole in about seven years.*) The legal proceedings began on February 26, 2004, when Hamlin and his wife, Susan, walked into the El Dorado County Sheriff's Office and she claimed that she was a member of a satanic cult led by her 71-year-old father. She claimed that the cult planned to kill Richard as a "Christian trophy" at midnight on March 1. She also claimed that the cult was planning to murder her husband because "if he were allowed to live he would cause problems for the Satanists" and that by killing him she would become a High Priestess in the cult. She also claimed that she had been molesting her four children for several years and that she had been raped by her father when she was a young girl and that he "passed her around to whoever else wanted to rape her."* She named her father, Dr. Sydney Siemer, as a child molester and satanic cult leader. She claimed that a Howard Mily not only had been molesting her since she was 15, but that she had witnessed Mily torture and murder a young girl in 1982. She claims she was "strung up on a pegboard" by Mily for three weeks and kept in cold storage and that she was brought out to witness the murder. Her father, she said, keeps snuff films and pornography at his home in Fresno.
When she confessed to these bizarre happenings, she had signs of physical abuse. She told officers that another Satanist named Rock Clum had punched her in the face a couple of days earlier in a Starbucks parking lot where she had gone to meet Lisa Clum to talk about the plot to kill Richard.
After Deputy G. Murphy and detectives Hoagland and Lensing heard this bizarre tale, they had the children placed in protective custody but let Susan and Richard leave with no charges being filed "pending further investigation."* Whatever that further investigation consisted of, it did not involve charging or arresting Susan Hamlin, Siemer, Mily, the Clums, or Richard Keehn (who was also named as a conspirator in the plot to kill Richard). It was just two days later that Susan changed her story and claimed that the confession was made because she was afraid of her husband. He was the one who had punched her in the face and cracked her ribs, she now claimed.
Richard, on the other hand, claims that Susan was in emotional turmoil because of her difficulties in dealing with recovered memories of sexual abuse by her father. Richard was arrested and eventually eighteen charges were filed against him for assault, assault with a deadly weapon, spousal abuse, child abuse and endangerment, making death threats, false imprisonment, and torture. He was found guilty of torture, four counts of spousal abuse, one count of making death threats against his wife, and two counts of child endangerment. If he doesn't get the convictions overturned on appeal, Hamlin may be sentenced to life in prison on the torture conviction alone.
No charges were filed against Susan Hamlin or the others that she named as murderers, kidnappers, sexual abusers, and rapists. The prosecution claims that she was a victim of mind control. It is alleged that Richard used violence and the threat of violence over a period of several years to get her to agree that she had been abused by her father, that she and her father were abusing their children, and that she and her father planned to kill him.
Hamlin's children testified that he hurt their mother and told them that he had to do it to beat the devil out of her. Their 18-year-old son testified that
he thought his father was going to shoot his mother during a Feb. 11, 2004 trip to Placer County.

Ryan Hamilton told of his father dragging Susan Hamlin into a field near a business complex in the Roseville area. Ryan said he and his younger brother put on headgear in the vehicle to muffle the sound if their father used a derringer he'd brought.

"We thought my dad was going to shoot my mom," the 18-year-old testified.

The couple and their two sons had driven in the family van from their El Dorado Hills home to Placer County because Richard Hamlin, 45, planned to kill a Granite Bay woman he said was involved in a murder plot to kill him, Ryan Hamlin testified.

When Susan Hamlin couldn't find the home of the woman, Richard Hamlin pistol whipped her and drove to the business complex, his son testified. (Ryan McCarthy, McNaughton News Service)
Susan Hamlin testified that Richard beat her, stabbed her, pistol-whipped her, threatened her with a sword, and punched her with increasing frequency over a four-year period.
There are a few facts that are undisputed in this case. Both Richard and Susan are graduates of the University of the Pacific's McGeorge School of Law, the school where U.S. Supreme Court Justice Anthony Kennedy taught before being nominated to his post by President Ronald Reagan. Hamlin had worked for seventeen years as a prosecutor and defense attorney. He was very successful and had no criminal record, making about $700,000 a year in private practice before he abruptly quit about six years ago. He says he quit work to help his wife with her repressed memories of sexual abuse by her father and her father's friends. The Hamlins lived in a million-dollar hilltop mansion in El Dorado Hills before going bankrupt. Susan was charged with child neglect and endangerment in 1999.* She kept a diary with details of cult activity and abuse, although she now claims she was forced to write those accounts by her husband. Some of her accounts detail her desire to uncover repressed memories of abuse.
Hamlin told a detective that one of his wife's friends tried to lure her into becoming a prostitute at Starbucks.* In 2003, Richard sent a beheaded doll and shredded children's books to Siemer, who had sent them as gifts to the Hamlins' children ("Trial told of torn-up doll: El Dorado Hills lawyer beheaded gift to daughter from her grandpa, sister-in-law says" by Ramon Coronado, Sacramento Bee, December 4, 2005*). In April 2003, Susan wrote a long letter to her father, accusing him of child abuse and of being the cause of her many physical and psychological problems. In June, 2003, Richard gave fliers to Siemer's neighbors, notifying them that Siemer molested Susan when she was a child.
Siemer hired the Fresno law firm of Gromis & Aguirre. The following letter was sent by Aguirre to the Hamlins on June 26, 2003, about ten days after Hamlin had passed out his flier:
Dr. Sidney Siemer has retained this office in reference to the accusations you and Susan Hamlin have made concerning Dr. Siemer's alleged past behavior.

Before responding to the accusations, Dr. Siemer sought expert, professional advice on the best method of responding. While he strongly denies the accusations, he is deeply troubled by the underlying cause of the complaints and did not want to take any step that would adversely affect Susan. We hoped to learn more about why Susan is experiencing these false "memories." We needed to know whether a truthful denial would have adverse psychological affects [sic] on Susan. Is the best approach simply to ignore the allegations? All of these questions needed to be addressed before responding and professional help was utilized to determine the best manner in which to respond.

Your recent conduct has made it impossible for Dr. Siemer to ignore the allegations. Your recent letters, fax communications, telephone calls and threats have placed the Siemers in an untenable position. While Dr. Siemer does not want to take any action that will have an adverse effect on Susan, he also does not want the allegations to go unanswered. He also wants to remain safe. Your statements on Father's Day to Denise Kliewer that you "want to go up and just kill the son of a bitch," are truly frightening. Dr. Siemer believes that you may take action to harm him. Consequently, he has asked me to request a court order enjoining you and Susan from contacting him and the members of his household. I have submitted the appropriate application for such an order and will provide you with copies once it has been processed.

After consultation with professionals we have determined that it is best to address the allegations directly. To that end, Dr. Siemer has asked me to inform you that the accusations made as a result of Susan's "repressed memories" are false. The incidents described simply did not occur.

Dr. Siemer hopes that Susan recovers and recognizes that these "memories" are imagined. We suggest that she receive prompt psychiatric and/or psychological care. If necessary, and if recommended by Susan's treating psychiatrist/psychologist, Dr. Siemer will participate in appropriate therapy with Susan. His decision to do this is solely out of his concern and love for his daughter. Dr. Siemer knows that the events described by Susan did not occur and he will work, with her therapists, to help her discover that the memories are indeed imagined. (McCullough)
Susan responded with an angry letter in August, but in September the Hamlins and Dr. Siemer came to an agreement not to contact or communicate with each other in any way. But within two months Siemer's lawyer once again wrote Hamlin to ask him to cease and desist from making molestation allegations against Dr. Siemer. Hamlin's response was a letter referring to Siemer as a rapist and demanding $300,000 "in lieu of proceeding with a filing of a complaint that will allege his child rape and molest [sic] of his daughter."
The Hamlins, now divorced, had been married for about 20 years and lived a lavish lifestyle before the trouble began about five years ago. Rock and Lisa Clum are friends of Susan who tried to counsel her on spousal abuse. Lisa Clum testified at Richard's trial that the thought of his wife being molested "drove him nuts."
Richard had a website to tell his story. (The story is posted here.) He hired Ted Gunderson—who is a book-length story in himself (see pro and con)—as his private investigator. Several conspiracy sites have taken up the satanic ritual abuse angle: Rigorous Intuition is worth a read. Virginia McCullough has written a few articles about the case on NewsMakingNews, including one where she cites "individuals who wish to remain unidentified" who claim that "Dr. Sid Siemer is a high ranking member of a CIA sanctioned child molestation ring called "The Finders" and also a senior member of the Order of the Trapezoid, consisting of worshippers of the Temple of Set."
On his website, Richard claimed that he hired investigators to check out Goat Rock State Beach on the Sonoma coast because Susan claims that many satanic molestations took place there. He writes:
Our investigative team has interviewed witnesses familiar with Goat Rock Beach and its surrounding area. Multiple witnesses have said that this particular territory is well known for "Satanic activity." They site the remoteness of the beaches and the many coves and caves that allow secrecy. They also state the reputation is longstanding.
Hamlin even thinks that it more than just coincidence that two young people were each shot in the head in their sleeping bags on a beach not far from Goat Rock in the summer of 2004. He thinks that since the couple were Christians and had a Bible with them that the murders may well be satanic. The only thing we know for sure is that the murders are unsolved and they didn't occur at Goat Rock.
I've been to Goat Rock many times over the past thirty years. The beaches there are not any more remote than other beaches on the Sonoma coast and there are not many coves and caves that allow secrecy, as you can see from aerial photos taken by Kenneth & Gabrielle Adelman. Goat Rock is near the mouth of the Russian River and is home to a colony of harbor seals. The beaches are sandy and easily accessible. There are picnic tables and restroom facilities. The park has usually been crowded with visitors whenever I've been there, but a quick call to the State Park rangers should be able to answer the question of longstanding reputation for satanic activity. The only unusual thing I've seen at Goat Park was a seagull swallowing a large starfish whole.
In case you are wondering: the sanity of Richard Hamlin was not an issue at trial. Richard testified that Susan had panic attacks and was treated for depression with "mood-altering drugs." A prosecution mental health expert testified that Susan Hamlin was a victim of Stockholm syndrome. As far as I know, nobody brought up the possibility of drug abuse. Many of us reading newspaper accounts of the events have no doubt wondered if one or the other or both of them are mentally ill. Was this a case of folie à deux? Did her claims—whether delusional or real—of child abuse drive him mad? Many would question Richard's judgment to be his own defense attorney. Richard's brother, Bradley, wrote on EZBoard.com (later deleted): "I can tell you factually that Richard is as sane as he's ever been." Maybe so, but Bradley also wrote:
I did not see my brother at all or speak to him in any way during his problem period: 2000 to 2004. I got a call that he landed in jail and went to see him. I had my own falling out with Richard. Sibling stuff, not related to his case. Susan talked about writing a book about her abuse. She wrote many detailed letters that would make no sense to anyone but her. A handwriting expert has also signed off on the fact that the letters were not written under duress. I know someone who was abused in very much the same way that Susan described and she (Susan) shows ALL of the signs of a molest victim.
Deputy District Attorney Vicki Ashworth stated at trial that Susan was acting "like an abused and battered woman." In any case, the handwriting expert was Marcel Matley, the same expert Dan Rather used to verify the signature of George W. Bush's former squadron commander in the National Guard.
At trial, Kim Dubach, Richard's former legal secretary, testified that in November 1999 Susan Hamlin told her that she suspected she (Susan) had been molested as a child. Susan based her belief on a memory she had had when she was 16, said Dubach. A friend spent the night and Susan saw her father touching her friend's breasts, which triggered the memory of her own abuse years earlier. Susan's sister testified that while their father was not a great dad, he didn't do anything sexual to them. The sister testified that she worked for her father for 23 years. For good measure, Ashworth accused Hamlin of having an affair with Dubach.
I hesitate to speculate as to what the truth might be in this case. We know that some sort of emotional crisis occurred about five or six years ago in the Hamlin household and that Susan and Richard both began exploring the idea that she had been molested by her father some thirty or forty years earlier. Richard certainly became convinced of this and of satanic cult and mind control activities. Did she abuse her children, as she says she did? Are the things she wrote in her diaries to be taken as the truth, the confabulations of a disturbed mind, or the fantasies forced upon her by her husband's sick mind? Is there any truth at all to Richard's version of what happened? Was Susan abused as a child by her father and others? Did she witness a torture and murder of a young girl? The only thing I feel confident speculating about is that others won't hesitate to speculate as to what really happened and they will have their books and movies out by summer. (update: I was wrong. Summer has come and gone and this story is still ripe for the plucking. update: ABC's Primetime took up the story in February 2007.)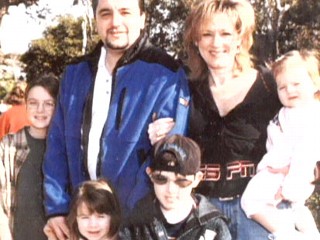 Since Richard's conviction, Susan Hamlin has become a spokeswoman for victims of domestic violence. She says she told lies to survive. At her ex-husband's sentencing she said: "Victims of domestic violence don't live to tell their story; they turn up dead -- their voices forever silenced. I did not die. I did whatever I had to do to stay alive and save my (children). I am a survivor."* She also read a statement she said was composed by the Hamlin's 8-year-old daughter: "He told us he was going to get rid of our mom and get us a new mom."
On May 30th, I received an email allegedly from Richard Hamlin, claiming he had read my "coverage" of his case and that he wanted to express his "appreciation" for my reporting. The letter seems authentic but without much understanding of what I had written. Perhaps I have become such a fair and balanced writer that I did not reveal my skepticism about mind control, repressed memories, and satanic ritual abuse. In the letter, Hamlin maintains his claims that his wife and their children were ritually abused by her father who used mind control techniques to get his way. The writing in this letter indicates that he may sincerely believe this. He thinks his family is just the tip of the iceberg in a vast conspiracy of abusers and mind controllers. As absurd as it sounds, he says he did what he did "to get help for those children who have been violated so that they can begin on the road to health." Half the letter outlined all the reasons he thought he would win a new trial and get the torture conviction overturned. He invited me to meet with him to discuss anything I wanted. Was he motivated by "pure evil" as the judge claimed? Is he delusional? Did his wife's mental breakdown lead to his own mental breakdown? I don't know, but I do know that I am not competent enough to evaluate mental illness, if that is what is involved here. That is partly why I did not respond to his email. Another reason is that it was clear from what he wrote that either he did not read what I wrote about his case or he read it but interpreted it to fit his own delusions.
I do wonder, though, if this case had gone to trial prior to 9/11, would Hamlin have been charged with torture? And if this case had gone to trial twenty-five years ago, during the height of the satanic ritual abuse panic, would Susan's father be the one going to jail rather than her husband? Would she be in jail, too, and the Clums? And anyone else that was accused?
I also wonder why the national media haven't covered this story. Too busy covering Brad Pitt and Angelina Jolie or whether some recovered drug addict's memoir was a true story? A day after Hamlin's sentencing, a search of Google News found only the Sacramento Bee and one Sacramento television station's website with a report on it.
Sadly, this story is not over. As noted above, Hamlin will be eligible for parole in about seven years. At the sentencing hearing, Hamlin's 14-year-old son told the judge: "If he gets out, it will not be him sitting in that chair. It will be me."
On Monday, February 9, 2009, the Third District Court of Appeal upheld the conviction of Richard Hamlin on all counts brought back by the El Dorado County jury on January 10, 2005.
further coverage
Brainwashed by Her Husband - ABC News - February 6, 2007 with video for a Primetime
Lawyer arraigned in abuse case The Sacramento Bee, Mar. 4, 2004 by Niesha Gates, Bee Staff Writer
Lawyer facing case of his life The Sacramento Bee, Feb. 10, 2005 Ramon Coronado, Bee Staff Writer
Sacramento attorney found guilty of torture in spousal abuse case The Sacramento Bee, Jan. 10, 2006 Ramon Coronado, Bee Staff Writer
Richard Hamlin gets life in prison The Sacramento Bee, Sep. 30, 2006 Romon Coronado, Bee Staff Writer
The case of Richard Hamlin, Susan Siemer Hamlin, and Sydney Siemer by Diane Vera
The Hamlin Case: Satanic Ritual Abuse in Sacramento by S.M. Elliott (blog: Speak of the Devil)

Last updated 12/09/10